Como con prácticamente todas las series de anime, las canciones de apertura y cierre (conocidas como openings y endings respectivamente) son potenciales fuentes de dinero gracias a las posibles ventas de discos que puedan generar en el futuro. En occidente este fenómeno podría equipararse a los Soundtracks de las películas, conocidas como BSO (Banda sonora original).
As with almost all anime series, the opening and ending songs are potential sources of money due to possible records sales in the future. In Occident this phenomenon could be compared with the movie soundtracks, Known as OST (original soundtracks).
Saint seiya No fue la excepción. La composición de las canciones le fue encargada a un grupo de Rock que venia con un cierto éxito en su carrera: Make-Up. El tema de apertura llamado "Pegasus Fantasy" (ペガサス幻想 = Pegasasu Gensou) tuvo una aceptación arrasadora, de modo que el 21 de octubre de 1986 (10 días después de la emisión del primer capitulo) Sale a la venta el primer disco de saint seiya: el single "Pegasus Fantasy/Blue Forever" (ペガサス幻想 / 永遠ブルー). Este single fue un éxito instantáneo así que se le encargo a Make-Up componer mas temas para lanzar un disco Vocal de Saint seiya. Estos temas ahondarían en los conceptos y valores presentes en la serie: La amistad, el valor, la lucha por tus sueños, la superación de los obstáculos, la mitología griega, etc.
Saint seiya wasn't exception. The creation of the songs was commissioned to a rock band that had some success in its career at that time: Make-Up. The opening song called "Pegasus Fantasy" (ペガサス幻想 = Pegasasu Gensou) had a tremendous acceptance so in october 21, 1986 (10 days after the broadcast of the first episode) the first Saint seiya record is out for sale: The single "Pegasus Fantasy/Blue Forever" (ペガサス幻想 / 永遠ブルー). This single was an instant hit so Make-up was entrusted to compose more songs for a saint seiya vocal album release. This songs will deepen in the concepts and values presents in the series:
Friendship, courage, fight for your dreams, overcoming obstacles, Greek mythology, etc.
Es así como un 21 de diciembre de 1986 sale a la venta el disco "HITS" conteniendo 10 temas, de los cuales son 8 los nuevos. Si bien Make Up era una banda de rock, algunos temas son netamente pop melódicos. La cantante, y actualmente casi una leyenda entre los fans de la música de animes, Mitsuko Horie (堀江 美都子) es invitada a cantar 3 canciones del disco. Este disco También tuvo buena acogida por el público en general. 3 canciones del disco se escucharon dentro de los episodios en su emisión japonesa: Can't Say good Bye (episodio 13. Shiryu vs Dragón negro), Beautiful child (episodio 16. Noche en la mansión Kido) y Final soldier (episodio 20. Seiya vs Shaina).
So, in December 21, 1986 the "HITS" recording is out sale containing 10 songs, which 8 are new. Although Make up was a rock band, some songs are entirely melodic pop. The singer, and actually almost a legend among the anime music fans, Mitsuko Horie (堀江 美都子) is invited to perform 3 songs from the record. This record had a good reception from the general public too. 3 songs from this record were included inside the episodes in the japanese broadcast: Can't say good bye (episode 13 Shiryu vs black dragon), Beautiful Child (Episode 16. night on the kido mansion) and Final Soldier (Episode 20. Seiya vs Shaina)
Episodio 13 Episodio 16 Episodio 20
El 20 de marzo de 1997 sale una re-edición del disco "HITS", probablemente por la buena aceptación del disco "1996 song collection", la esperanza que sembró el CD "1997 Shounenki" en cuanto al resurgir de la serie, y, porque no, el renombre y la popularidad de la que gozaba en ese entonces Saint Seiya (Los Caballeros del Zodiaco) en todo el mundo ;)


March 20, 1997 is out for sale a reissue of the "HITS" Record, Probably because of the good reception of the album "1996 song collection" , the hopes sown by the album "1997 Shounenki" about the resurge of the series and, why not, because of the renown and popularity that Sain Seiya (knights of the zodiac) had at that time worldwide ;)

Datos/

Data

·Nombre del disco (en occidente):

HITS (I)

·Nombre original japones del disco:

ヒット曲集

·Nombre japones en Romaji:

Hitto Kyokushuu

·Traduccion japonesa:

Hit music collection

/Coleccion de exitos musicales

·Año/Year:

21/10/1986 21/03/1997 (2da. edicion)

·Precio/price:

3000 yens 2427 yens (2da. edicion)


Tracklist

·

Pegasus Fantasy

~ ペガサス幻想

(4:30)

·

Can't Say Goodbye

~ さよならのかわりに

(4:28)

·

Friends in the Sky

~ 希望の翼

(4:36)

·

Love Fighter

~ 愛の聖闘士

(4:47)

·

Final Soldier

~ ファイナル・ソルジャ

(4:10)

·

Remember

~ リメンバ

(4:13)

·

I am Fight

~ 勝利のペガサス

(4:12)

·

Beautiful Child

~ ビューティフル・チャイルド

(4:42)

·

Stardust Way

~ 哀しみの英雄

(4:15)

·

Blue Forever

~ 永遠ブルー

(4:06)

-Duracion Total:

43' 51'' -Casa Discografica:

Nippon Columbia

-Referencia:

30CC-1349 COCC-1349 (2da. edicion)

·Banda Interprete/Band:

Make-Up



·Integrantes/Members:

Nobuo YAMADA (NoB) 山田 信夫 (Voz =

Voice

)

Hiroaki MATSUZAWA 松澤浩明 (Guitarra =

guitar

)

Yohgo KOHNO 河野陽吾 (Teclado =

Keyboard

)

Yasuyoshi IKEDA 池田育義 (Bajo =

Bass

)

Yoshihiro TOYOKAWA 豊川義弘 (Bateria =

Drums

)

Cantante invitada/

Guest Singer

: Mitsuko Horie 堀江 美都子L (Voz Track 3, 5, 8 =

Voice Track 3, 5, 8

) Descargas/

Downloads

Letras/

Lyrics

"Hits I"

Descargar/Download
Descargar/Download
Covers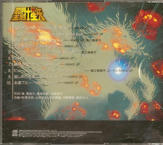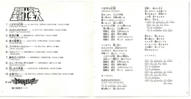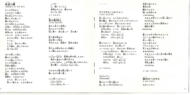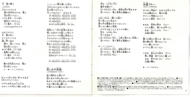 Mp3
o
Carpeta mp3/

Folder mp3

:
Carpeta mp3/

Folder mp3

:
Contraseña/

Password

:
http://siguebrillandocosmos.blogspot.com
Escuchar/
Listen
Playlist Hits I Youtube
Link Playlist
http://www.youtube.com/view_play_list?p=E3B58B7F0088DBE6
Fuentes/Source:
Info
http://ja.wikipedia.org/wiki/MAKE-UP
http://www.saint-seiya.com.ar/
Covers http://www.icavalieridellozodiaco.net/ (archivi - Copertine e libretti)
letras/Lyrics
http://philipho.tripod.com/OLyrics.html
Enlaces relacionados
·

Disco "Saint seiya - Hits II" (El imperio contraataca...)
·

Disco OST 3 ( La mitad de la musica que faltaba + relleno + repetidos = OST 3)
·

Informe: Canciones Vocales en los Capitulos de Saint Seiya
·

Acordes de Friends in the Sky :DD
·